LICE
LICE is the band that will performed during the Greatest Nits Inc day. The band consists of 9 Nits fans
from 4 countries. Several of the band members haven't met before this project and definately never played
music together. Some band members have musical experience and performed on stage before, while for others this was their
first big musical experience. The thing they definately have in common is their love of Nits music. The set LICE will play will
consisted of around 13 Nits songs. The setlist, consisting of many 'forgotten' Nits tunes, was kept secret until the performance itself.
Several (ex-)Nits members joined LICE on stage on November 19th.
LICE consists of the following people
Anna Adrichem (vibes, background vocals, eggs and other percussion) - Netherlands
Maarten Eijkhout (bass guitar, market salesman, LICE organizer) - Netherlands
Tenno (keyboards, backing vocals) - Germany
Franck Ducourant (electro acoustic guitar, lead and backing vocals) - France
Jelle Amersfoort (electro acoustic guitar, percussion, lead and backing vocals) - Netherlands
Symeon Charalabides (electric guitar) - Greece, now living in Ireland
François Drouin (lead and backing vocals, photography) France
Robert Geerling (drums and sound effects) - Netherlands
Dennis Versteeg (ocarina flute, frog sounds, percussion, lead and backing vocals, anouncements) - Netherlands
Guests that played a song with LICE on Nobvember 19th
Michiel Peters (electro acoustic guitar, lead vocals)
Martin Bakker (drums)
Henk Hofstede (electro acoustic guitar, lead vocals)
Many pictures and photos of the LICE performance and rehearsals are avaialable through this site:
Rehearsals
Set One
Set Two
Sounds
I don't know if we will ever put some of our songs as mp3 on this site, but we very well might!
There is an mp3 of the Nits' studio version of 'Skateboard Boy' available through this page.
The Setlist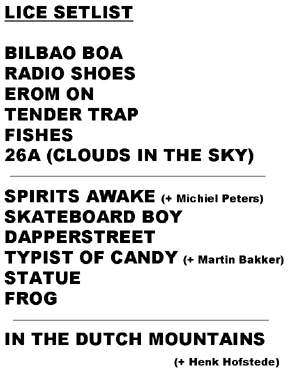 At the concert an extra encore of 'Bilbao Boa' was played together with Henk Hofstede.
LICE Diary
(written by Dennis)
Preparations (May - September 2000)
When Clemens launched the idea of the Greatest Nits Inc day in early 2000, some people were asked if they wanted to help organize the day. After some brainstorming it was decided that there should be live music that day by fans, inspired by the List Plays Nits projects. Maarten Eijkhout, one of the organizers, said he would coordinate the project. On the Mailing List the idea was presented and we found enough people to man all the basic instrumenents and even more. Originally Jolanda van Huizen (percussion) and Wilco Barg (vocals) were also going to be part of LICE, but unfortunately they both had to cancel their participation. Both are Greatest Nits Inc organizers and will of course be present on the day itself, but just as audience members during the performance.
So the whole thing was turning into reality. Especially after a meeting of the LICE organizers with the Nits themselves (at the Werf on a beautiful sunny day with tea and cake), where the band expressed their anticipation for seeing fans playing their music, things became really exciting and everything started to move fast. A mini-mailing list was set up for the band members and one of the first things was the decision of the name, after almost no discussion whatsoever it was decided that the name would be LICE, in the line of Nits and Beatles. The next step was to decide which songs to play. Democratic e-mail voting resulted in 11 songs from the whole career of the Nits. The rarity Skateboard Boy was added to this undemocratically by Maarten and me, resulting in a total of 12 songs. Maarten started a website for the LICE musicians on which the voting results were presented, as well as who plays and sings. This website turned into a reference site for LICE, since it soon also contained all the lyrics and chords to the songs.
Rehearsal 1 (Den Haag, September 16th, 15:00 - 18:00)
Although only 4 band members could make it (Maarten, Anna, Robert and me) the 3 hour rehearsal turned out very nice. The fundations for most songs were laid. We tried all 12, but some were almost impossible to play without guitar or keyboards. Often we were playing along with a CD made by Dennis consisting of Nits live versions of 'our' songs. More or less as a joke we tried to play 'In The Dutch Mountains'', but to our shame we (well, just me that is..) couldn't remember all the lyrics. We liked it anyway and first toyed ith the idea to put this one on our setlist.
Rehearsal 2 (Haarlem, October 7th, 18:00 - 22:15)
For the first 2.5 hours it was the same mini-LICE line-up as the first rehearsal: vocals, vibes, bass and drums. On drums this time we had stand-in Djoeke (thanks a lot!!), who did a more than excellent job, especially since she didn't know Nits at all! More 'foundational' work was done. Another stab at 'In The Dutch Mountains' was attempted, this time a bit more succesful, but still not great. It was decided to rehearse it properly before the next rehearsal. Near the end of the rehearsal Franck and François arrived after having been stuck in traffic. Now with extra vocals and guitar everything started to sound more full, leaving us hopeful for the next rehearsal. Luckily our rehearsal time could be extended and we played for about one and a quarter hour with 6 LICE musicians.
Rehearsal 3 (Haarlem, November 4th, 18:00 - 21:30)
The biggest gathering of LICE musicians so far! Franck and François came from France once again. Anna, Maarten en me were there for the third time. Robert had come back from holiday and Jelle could make it luckily this time for the rehearsal. Between the second and this rehearsal the order of the songs was decided and we played the whole set of 13 songs ('In The Dutch Mountains' was now officially our encore) in sequence twice. The first time around with many repeat performances and tries and discussions on the arrangements. The second time almost immediately all the way through. 'Statue' gave a lot of difficulty and we were seriously thinking of dropping it from the set. Through our LICE mailing list Symeon assured us that he had the song under control on the electric guitar, so we decided to try it again at the last rehearsal.
Before this rehearsal 'final' decisions were made who is going to sing what, although a few small changes were made in the last rehearsal and two songs would be sung by Nits members (I stood in for them at the rehearsals). Because we now had multiple vocalists more backing vocals were added and the two guitars sounded great together. Like the two rehearsals before this one was recorded by Maarten on DAT, but this time it was actually good enough to make CD-Rs out of it to distribute amongst the LICE band members, so we could listen to ourselves and decide what to change or improve.
Rehearsal 4 (Haarlem, November 18th, 15:00 - 21:00)
This was our marathon rehearsal of 6 hours! For the first time all 9 LICE members shared the stage and from the beginning on it went very well. All songs were played in sequence many times. The addition of Tenno (keyboards, vocals) and Symeon (electric guitar) had a great impact on the sound, which now became very full. We decided on final arangements and got more and more familiar with the songs. In the end we felt confident about most songs, still Statue gave some trouble, but we decided to go for it anyway at the day itself. During the day we had several visitors, so we actually received our first applauses! The last hour or so consisted of a complete set, including anouncements by me. We felt exited to play the day after and everyone looked forward to it with anticipation, but also with confidence.
Performance (Utrecht, November 19th, end of afternoon)
Finally it was the day of Greatest Nits INC and our performance! Everyone was in Stariway To Heaven early in the morning to build up the instruments and do a soundcheck. Unfortunately we weren't able to do a soundcheck before the doors opened at 11:00 am, so after some time we did our soundcheck when many people were already inside. Our apologies for interfering with the video program.. First instruments were done seperately and we played one and a half versions of 'Bilbao Boa' all together. I heard that in the audience the sound was very good, so I guess the soundcheck was done well!
At around 13:15 it was time for our first set. Before us Adrian and Deena did a wonderful performance of 'Giant Normal Dwarf'. We were anounced by Wilco, who originally was supposed to be in LICE, but now was the Greatest Nits INC anouncer. We went immediately into 'Bilbao Boa'. Lead vocals were done by François. I must say we all did a good job on that one. Nerves were not too bad with most people I believe. I think we surprised many in the audience with our performance. Many people told me later that they expected a very loose and underrehearsed group of people, while actually we sounded much tghter than expected. We went through all the more difficult parts of Bilbao Boa fine and afterwards we received a big applause!
I had the 'job' of adressing the audience and introducing the songs. I loved doing that I must say! I explained LICE and introduced the next song: 'Radio Shoes'. I played a small ocarina flute I bought around 1990 in Hungary. It was broken and glued back together again and it couldn't play completely in tune, but the effect was good I think! I also did the lead vocals on this one. Robert's drumming was pretty cool on this one, especially in the end where we sort of jammed on the song.
The third song was 'Erom On', sung by Jelle. It's quite a hectic song, but it features many very cool sections and I think we pulled it off quite good. Jelle has performance and singing experience and I think that was quite clear to the audience.
The fourth song was sung by Franck and it was 'Tender Trap', a beautiful 'forgotten' song. Anna's vibes started it off and we went through a good version of it. After this Franck sang another song: the dAdAdA period b-side 'Fishes'. This is a very nice uptempo song. Personally I could relax a bit and listen to the band, because I didn't have to do anything!
Then it was time to introduce everyone in the band and everyone received a good applause! YThe introductions were followed by the last song of the first set: '26A (clouds in the sky)'. We decided to share the lead vocals on this one: Franck the first part of the 'slow' section. I did the second part, Jelle the vocals in the 'loud' section and Anna, together with Tenno, Dennis and also Franck and Jelle on the chorus sections. Especially in the 'soft' sections this is quite a scary song to sing. For me it was a strange experience, because for the first time in the concert I could hear myself very clear through the monitors. This distracted me a bit and I hope I didn't go too far off-key in my verse.. The fast part went great and after a very big applause this ended our first set.
We received many compliments from lots of people, including several Nits members. We now had to wait for our next set and because we had special guests for this one, we were looking forward to that a lot!
After the great Tom Telman Quiz and the lottery we were on stage again at around 15:15. It was anounced that we would feature special guests in this set and already for the first song this was the case: Michiel Peters joined us for 'Spirits Awake', much to the exitement of the audience (and ourselves!). It was the first time Michiel performed in front of an audience in a very long time. Before the 2nd set I talked with him how we playe it and everything went great during the actual performance. Great to hear him sing and play again, his voice is defiantley connected with 'old' Nits for me. We finished the song (unfortunately Robert's thunder sample malfunctioned a bit, but that didn't matter much. Michiel left the stage after a huge applause.
The next song was a very special case. It was one that the Nits wrote, but never released. They did play it a lot live in the late '70s though. It's called 'Skateboard Boy'. More information about the song and a downloadable version can be found on this page. I explained the song to the audience and then we played it. I sang the lead vocals and we played it in a good pace. Often at the rehearsals we played it to fast, almost like a punk song. I think the live version luckily turned out good.
After this very unknown song we did a much beter known one: 'Dapperstreet', sung by Jelle. I think this one was one of the highlights of our concert. It worked out very well and Jelle's excellent singing sure helped in this case. Maarten played the role of market salesman at the end of the song!
Then it was time for another special guest: Martin Bakker, former Nits bass player. He wanted to play the drums however, so Robert left for this song and Martin took his place. We played 'Typist of Candy', lead vocals again by Jelle. In the first half of the song Martin stayed very quiet in the song, but he started to play very strong and good after this, much to the delight of the audience. During the rehearsals this was always one of my favorites and even with a drummer we never played with it turned out quite spectacular. Especially Tenno's keyboard solo was great!
The next one was a scary one: 'Statue', with which we had a lot of trouble during rehearsals. Franck and I shared the lead vocals and this time it went good! Except for a very small mistake by Symeon ('what are the chords again?') we played it perfect for the first time ever! The loud guitars were definately something that has disappeared from the Nits sound, so it was nice to do a song from a period where it was not uncommon with them to have loud guitars.
Unfortunately that brought us to our last 'official' song: 'Frog'. I introduced our little squeezable frog that made frog sounfds. I started the song with it. Anna did the vibes intro and we were off in full force. Jelle and Anna sang lead, with me joining in a lot as well. The frog was heard again during the breaks and the outro. Robert had a cross between a frog and a dog in his sound effects thingy and Maarten played very cool bass. We had a lot of fun on stage during this one.
Then the main set was over, but the very enthusiastic audience shouted for more. Luckily we had one more: 'In The Dutch Mountains'. For this one we were joined by a fianl guest: Henk Hofstede! It was great to be on stage with him during this one. I think Henk also enjoyed playing with us. The version was enthusiastic and loud, the way it should be! Our 'ooh-oohs' in the middle part sure were fun to do. After the final 'mountains' and 'buildings' shouts we thought we were now finished. The audience wanted even more however!
After a wqquick decision we did 'Bilbao Boa' again. This time with Henk on lead vocals and guitar. We had a lot of fun playing it! Even though we played it two and a half times before during the day.. After this it was really over and we left, except for Henk who told the audience that he would play with several of his former band-members! This is not the place to tell about this though. Except to say that Tenno sneaked in during 'Chameleon Girl' and played keyboards on that one (with a Hammond sound, much to the dislike of Symeon!).
At the end of the day we received a huge amount of positive compliments by many people and it was sure an experience to remember!
The Future Of LICE?
Was this the end of LICE? I don't know. For now it is, but you never know what will happen in the future!